The following is a copy and pasted personal Email blathering about football, this is the crazy bullshit that I waste half my day on sometimes….most times during the NFL season, arguing, venting, talking shit in emails to friends. I've often thought of blogging one of these Emails for shits and giggles, so that's what I'm doing. If you're an NFL fan AND you're somehow amused by my foul mouthed pot shots you may find this humorous, file it under Hooey and Applesauce.
NOTE: the recipient of this Email shall remain unnamed(at least for now) but for frame of reference, he is a Colts fan……but he's not from Indy so…yknow. Hahaa!!! The burn has already begun!
OKay here's the Email, cut and paste, warts and all:
Hoo boy! Pullin off the snap pants, poppin off the bench like Steve Scheffler. Okay…let's roll…or let's roll…or I can just roll it to you:
Start with the Jets. Hot sticky mess, Schotty's out thank god although I cringe for Sam Bradford that he's likely heading to STL(why? Based on his robust body of work in Jersey?). I'll get to the Chargers in a bit, and they're worthy of a shitload of scrutiny but I will say in hindsight I have to give AJ Smith credit in saying "fuck no" to nepotism years ago as he put his foot down with Marty when he wanted to move his kid up the food chain.
But anyway, Brian Schottenheimer out, Tony "I wear my sunglasses at night"
*
Sparano in???? For real? We don't have enough bi-polar, fat six year old throwing a fit cuz his mommy wont buy him a hot dog energy on this coaching staff already? He's a losing coach and what the fuck has he proven as an offensive mind? This is a HUMONGOUS hire. Rex's
toe suckin
ass is riding on Mark Sanchez, his new offensive coordinator has to fix that kid or he's totally fucked,
GAME OVER
. And he thinks Tony Sparano is the man to do that job….did they even interview anyone else?! Season ends, Schottenheimer out, Sparano hired, it was already locked in, they were champing at the bit to get…..Tony fucking Sparano….good luck Jersey, I mean…fuck, you got the Jersey Shore setting you back decades, not to mention  Jon Bon Jovi…and WTF he's a Pats fan?? Totally up Belichiks ass, they play that new Bon Jovi song whenever they score…gives me douche chills. So I guess that's a fart cloud hanging over Jersey and Boston…
The beauty of this disaster is it goes all the way to the top. Not just Rex I mean the ownership's appraisal that hiring this fucking guy was a good move, what like "this is New Yawhk we gotta get some attitude"?? cuz I'm starting to wonder why either of these twin shits have big jobs in the league.
Tenenbaum the GM(I get that right?) is a fucking joke, especially on moves for offensive players. Time will tell if Sanchez or Schottface were the culprit on offense but neither of them were done any favors with that fucking roster. Holmes is a hot and cold diva cancer and Buress was a huge gamble and still is only dangerous in the red zone(big old, slow), they have no chain moving reliable possession receiver. Their fucking line is a joke, how can you ground and pound when your STARTING RIGHT TACKLE IS WAYNE HUNTER. Who? Never heard of him, is he some young kid off the practice squad thrust into live action due to injury? No, I know who Wayne Hunter is because Mike Holmgren drafted him a few years ago, "oh so he's from the Browns then?" No, back when Mike was with the Seahawks, "but Holmgren lost his GM privelages in Seattle" Yes he did but for his first few years he ran the whole shootin match(hindsight shows he was actually decent) so we're going back to the 
silver helmet
 era. 
The Kingdome
…Wayne Hunter drafted late, never started…..for anyone….ever in his career yet the Jets genius coaching and front office staff saw something in this man, sunk the O line.
Signing guys like LT, Burress, Jason Taylor, Derrick Mason, Cromartie, they're trying to pull off some Patriots shit like "we'll baptize them in Jets juice and they'll be different here and or we'll maximize the few drops they have left in the tank" newsflash fuckos: it's a crapshoot and you have to have a strong team and solid coaching to survive when these signings backfire. Belichick looks a tiny bit dumb for picking up Ocho and Haynesworth because they contributed almost nothing this year BUT he gave up next to nothing to take those risks and don't look now but he's a cunt hair from a 4th Super Bowl ring, you toe sucking fatso!
Joe Flacco, fuck you Joe Flacco. What's wrong with you? You're going out of your way to render yourself completely unlikeable. So you're keeping the Village people handlebar out of  susperstition? Like you'll shave it when you lose? Didn't you have that shit when you lost tot he Seahawks and Jaguars???
JIM TRESSEL
?????????
 Are they trying to scare Peyton off? Like maybe if they make the sweater vest head honcho and lowball Jeff Saturday so he walks, Manning wouldn't want to come back. I dunno, maybe Tressel has experience working with Quarterbacks who can't move their neck. Didn't Terrelle Pryor have that one season at Ohio State where he made every start in a 
rascal
?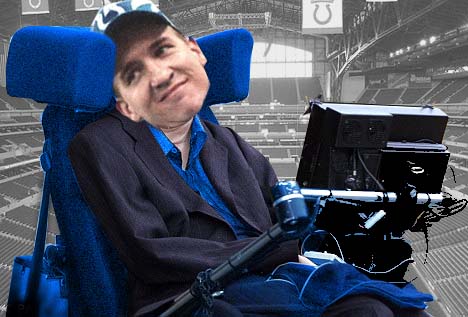 I guess if they get creative they could make something work with Peyton's handicap, I mean his BRAIN is really his greatest assett!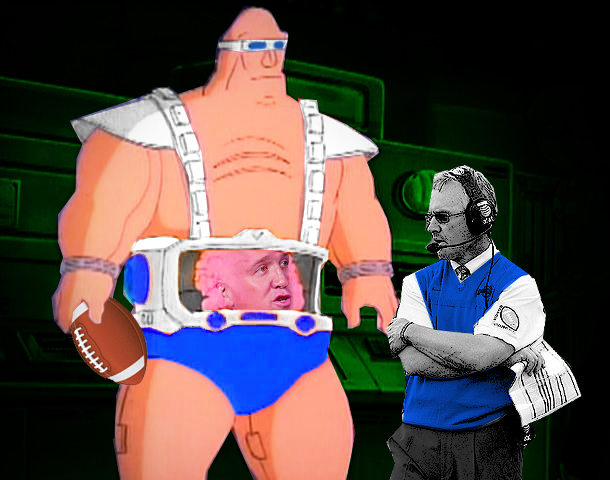 Joe Paterno, dead…..I should say something nice here though I don't really care either way…..great head of hair til the bitter end! Rare.
Slightly more average Joe, Philbin to Miami, guess that makes them a strong candidate to grab Matt Flynn. Florida is sexier than Seattle I guess but the Hawks are a comptent QB from being a 10 win team whereas the Dolphins have a ways to go…but that shit doesn't matter it'll come down to dollars especially a guy who's been holding a clipboard for years, he's got to cash in right now. I'd love him here but I still have a funny feeling Schneider and Carroll will go with option Z that no one saw coming, I mean they've drafted well and made good on most free agent moves yet Whitehusrt and Turdvaris were out of nowhere and netted mediocre to laughable results.
Texans! They're gonna be looking back at this season for years asking….."what if Matt Leinart had stayed healthy?"
I really don't know what I'd like to see in the Super Bowl, I'm not even that excited about it right now. Hopefully these games today are good.
Part of me would love to see a Giants/Pats rematch just so I can poke your charred soul with a stick when Tom Brady gets his 4th ring and is slurped all year by ESPN: YEAR OF THE BRADY!!! The Niners are the best story and would be an interesting matchup…I like the rivalry brewing between Harbs and Carroll but I'm not gonna cringe if they make the Super Bowl, probably because I'd expect
them to lose in recent NFC West fashion(Hawks/Cardinals)….but fuck, what if they won? Would the football gods allow a brash motherfucker like Harbaugh to go all the way in his rookie season
????
Oh yeah, I'm gonna blog this.
Okay so that's it. Didn't know I had so much Jets venom in me. More than anything I just wanted to get those Manning photoshops out there. This is a great time to know someone who's a Colts fan and rib the living shit out of them, it's great fun. If you have the means I highly recommend it!
* 
Tony Sparano wears sunglasses because he had an accident with a fryer as a youth. Splashed his face, almost lost his vision entirely, he's light sensitive, has to wear sunglasses all the time.