Hola internet…I give you SUPER LIBRE!…I'm already running out of Spanish vocabulary, and I'm pretty sure that title probably doesn't make sense but I like it.
Super Libre is a set of four  9″ x 12″ screen prints in an edition of 200 and a small edition of 20, 18″x24″ uncut sheets. It's an interpretation of superheroes through the prism of traditional lucha libre wrestling masks, hence the name. They're up in the store now.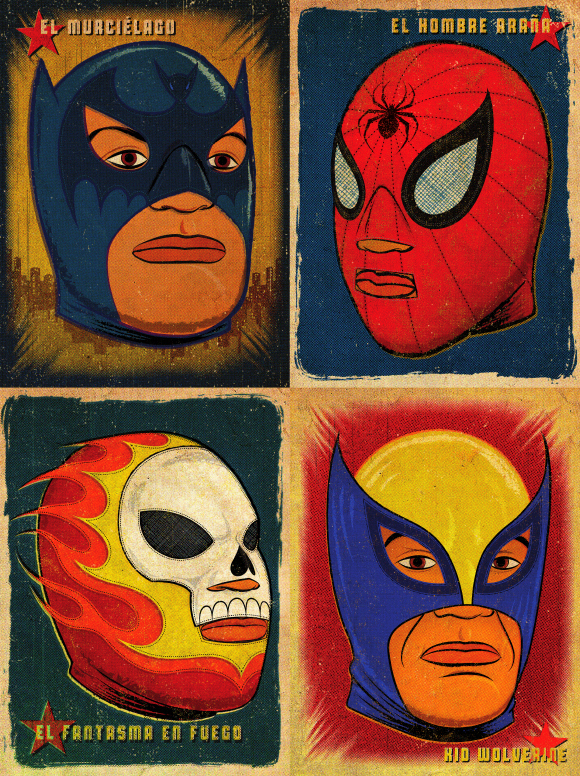 I think the idea grew out of living here in southeast Austin and seeing  a lot of superhero pinatas and such, janky looking bounce houses with random superhero heads slapped on them that don't really belong together. That and lucha libre masks are cool and have always fascinated me as well as those old Santo and Blue Demon movies where wrestlers are bizarro superheroes getting into adventures with zombies and classic movie monsters.

I stylized the prints in the vein of some vintage luchador illustrations I found in my tumble down the google image search rabbit hole.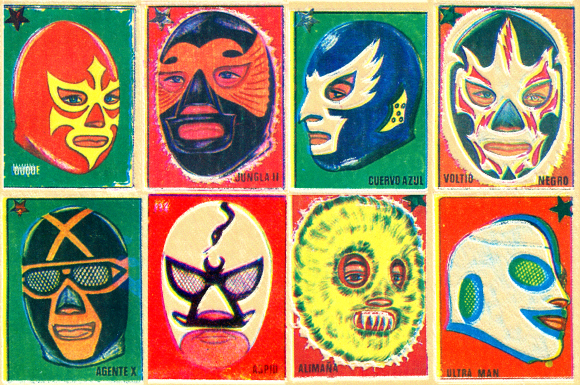 I built them up in illustrator, actually I'd say about 70% of the work was done in Illustrator which is not my usual process. It was a fun experiment with illustrator brushes. Here's a rough look from sketch to Illustrator to Photoshop where I added the textures and stepped on it to give it a pulpy feel. Then separated for 4 color process screen printing and sent off to print at Lady Lazarus out yonder in Houstontown.

Here's a closer look at the final versions of the four pieces in the set.