I was fortunate enough to create a poster for Nick Cave & The Bad Seeds at the Paramount Theatre in Seattle….oh and special guest MARK LANEGAN!
I just added the posters to my store for presale at five dollars off normal price to get a jump on everyone being busy/out of town for the 4th of July at the end of the week..in America anyway so jump on it!!
I love me some Nick Cave as I'm a sucker for cinematic lyrics. There were a lot of lyrics to work from on the latest album Push The Sky Away, I keyed in on the lyrics from two songs in particular for this poster: We No Who U R and Higgs Boson Blues.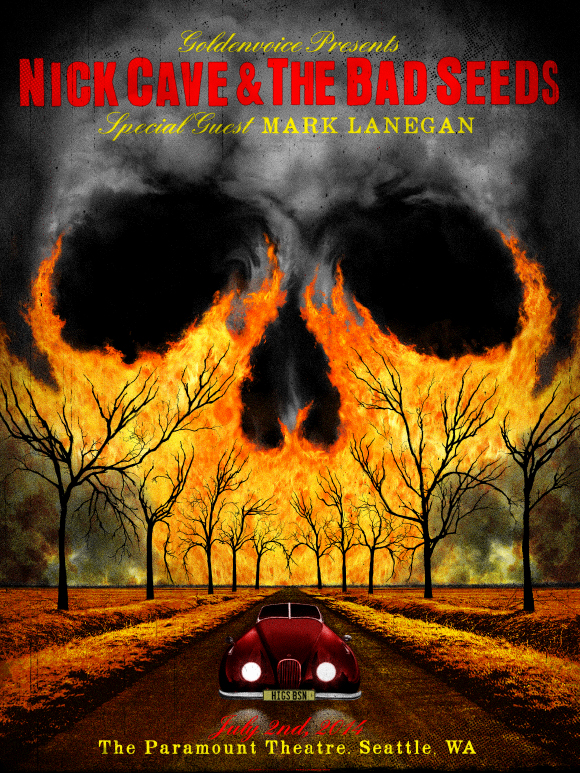 Lyrics from the opening track We No Who UR:

"The trees will stand like pleading hands…The trees will burn blackened hands"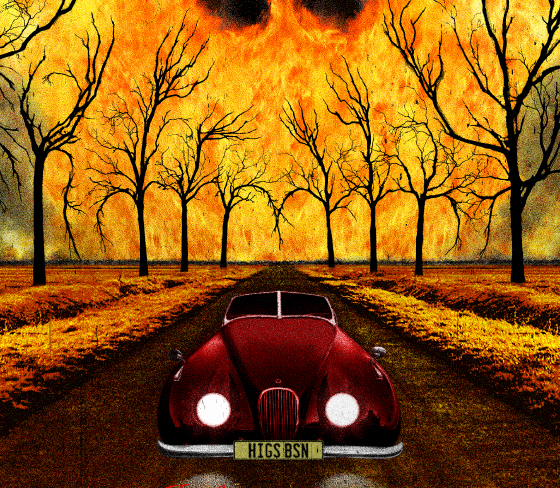 and from Higgs Boson Blues on the second half of the album:

"..Flame trees line the streets…But I'm driving my car down to Geneva"
Here are the videos for both songs as well as Jubilee Street. Music videos, still a thing!
Boring side note, I first heard the title track from Push the Sky Away while driving(moving) from Seattle to Austin last February(2013). I was going through southern California, in radio range to pick up Henry Rollins show on KCRW. Boring story to read but it was a real neat moment for me! Radio magic!! A few more miles down I-5 I was out of range of KCRW and I went back to listening to the 5 CD's I had in my car over and over because I had misplaced the doohicky that connects the iphone to my car stereo…twas a long trip.